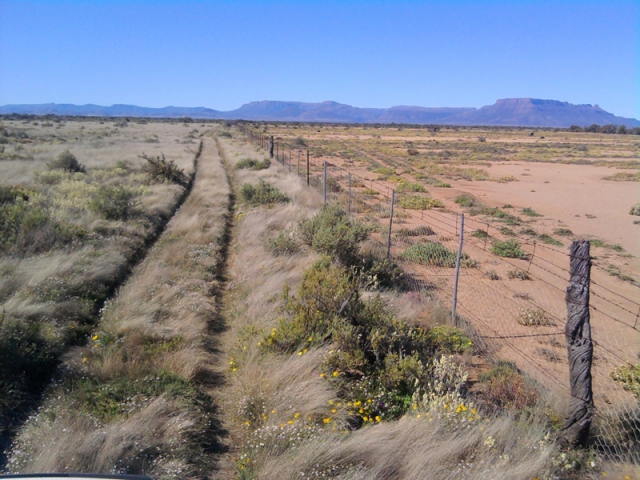 Karoo Region, South Africa
This is a picture (above) taken in Eastern Cape in South Africa – Karoo country – showing desertification with low stocking rates and conventional grazing on the right, and high stocking rates using holistic planned grazing on the left.  The land on the right continues to deteriorate supporting fewer animals, while the land on the right improves, supporting more. The property on the left has been under holistic management since the 1970s. Average rain fall is approximately 230 mm (9-in) / yr.
Las Pilas Ranch, Chihuahuan Desert Region, Mexico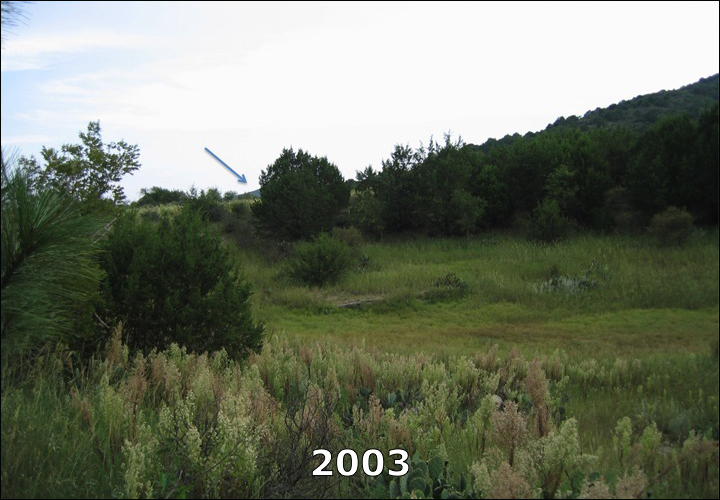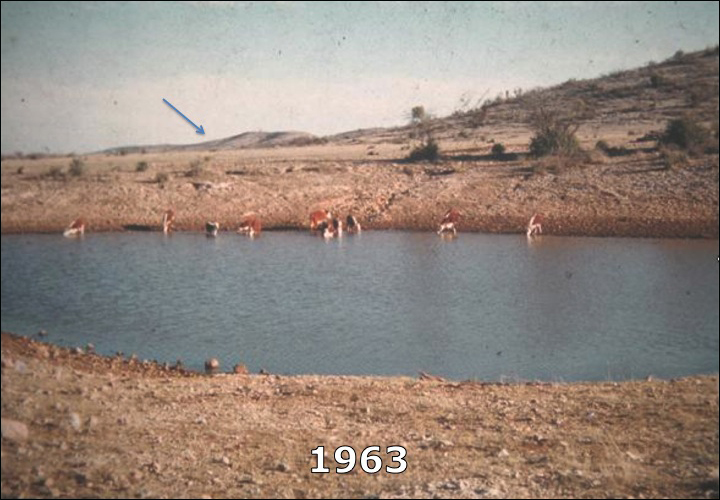 [Photos taken from the same spot. The arrow marks the same point on the horizon. Photo credits, Guillermo Osuna.]
The Las Pilas Ranch in Coahuila, Mexico, is a model of ecological restoration using Holistic Planned Grazing. Over a twenty five year period from 1978 to 2003, the barren landscape was completely revived. The images below show the transformation. Although the first picture is from 1963, the restoration with Holistic Management didn't actually start until 1978. During the restoration period, the livestock population was doubled and grazing was done according to a plan that paid close attention to grass health. The top landscape from 2003 actually has six-times the water as the the lower landscape from 1963. The water is held in the soil and in the plants and trees. Previously a 1-inch rain would fill the trough from runoff. Now a 6-inch rain does not cause standing water in the low point. It is all absorbed. The trough is no longer needed because the streams flow year round. See a tale of restoration case study.
https://regenerationinternational.org/wp-content/uploads/2015/10/8113602913_a6cd0ffb35_k-1170x822.jpg
822
1170
Regeneration International
https://regenerationinternational.org/wp-content/uploads/2018/10/RI-Logo-New.png
Regeneration International
2015-12-05 06:00:23
2015-11-20 12:14:41
Land Restoration With Holistic Management